H.I.T.S Scholarship Program
Instructions For Applying For The Program
Scholarship applications are available after October 1 from the Board President and Vice President. Applications are to be returned by December 31. Board decisions will be complete by Jan 31. Applicants must be enrolled in College or Trade School to apply. All former Hustler Players may apply once the first year following High school. Former Hustlers who continue to be on the roster of a college baseball team may continue to apply each year.
H.I.T.S MEMBERSHIP RENEWAL FORM (printable)
H. I. T. S. Scholarship Program Hustler Intense Team Supporters (H.I.T.S.) is made up of an inside group of baseball fans, former players, parents, relatives, friends of youth activities and assorted baseball nuts, that are building Scholarship funds. There have been 23 scholarship recipients plus the Andrew Rawson fund over the last 8 years for a total of approximately $8,100 awarded. <![if !vml]>
<![endif]>
Dues are only $45 a year for you and your spouse and include an invitation to our sponsor barbecue. Finally a special group for our Hustler fans who have that added interest of continuing education. Join the team...... Renewals are due in May and we would like to have them all before the end of June. If you would like to join don't wait. Make your check out to: Columbia Gorge Hustlers and mail it to 1002-B West 6th St. The Dalles, Or. 97058. Write HITS on the memo line. If you know of someone else who should be a part of this group let us know.
Those in the first 100 will be part of our Charter Member Club.
<![if !vml]>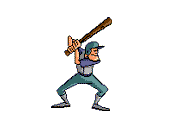 <![endif]> Load the bases with H.I.T.S.!